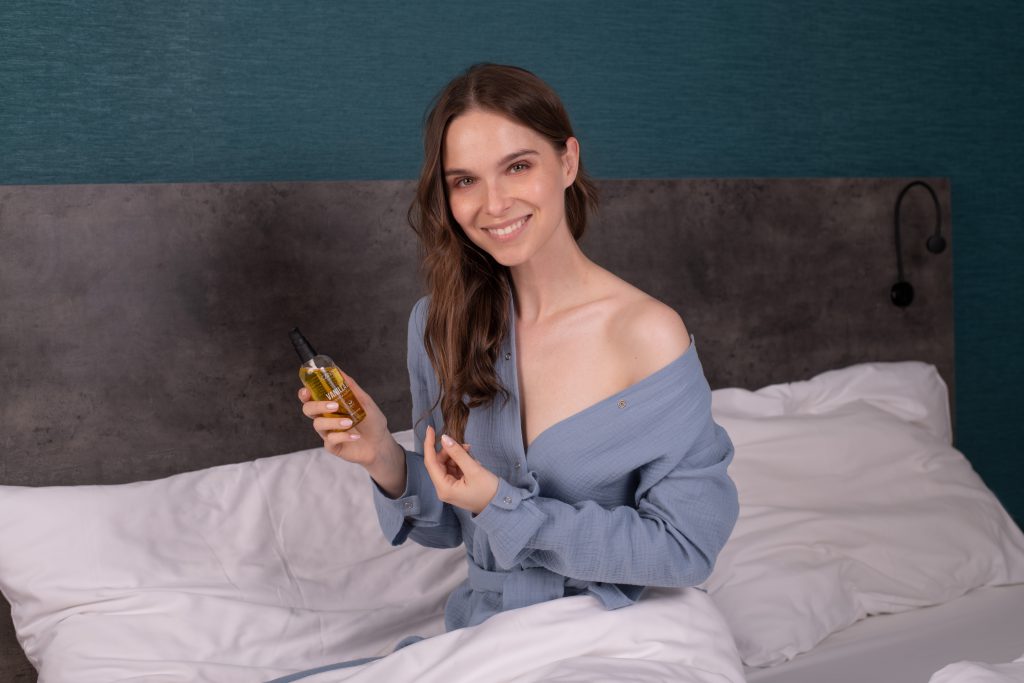 Warm and sweet vanilla scent
Nurturing Vanilla Oil can be used for various purposes in your bathroom. It serves excellently as a body, facial, or massage oil, and it takes perfect care of your hair as well. Additionally, the scent of vanilla can improve your mood and enhance feelings of comfort, calmness, and security.
Vanilla is a source of B vitamins, which have a beneficial effect on your skin, keeping it young, elastic, and, most importantly, healthy. You will also appreciate its anti-inflammatory properties. It takes care of irritated skin, inflamed areas, and accelerates the healing of damaged skin. Moreover, we have enriched the vanilla macerate with moisturizing organic argan, almond, and jojoba oil, enhancing its beneficial effects.
10 Tips for Using Vanilla Oil:
A warming massage oil with aphrodisiac effects.
Body lotion after a bath.
Hair treatment or conditioner.
Part of daily skincare.
Aid in treating burns.
Help in treating inflamed areas.
Moisturizing dry and rough skin.
Protecting the skin from the cold.
Massage oil for babies.
To gently scent the skin and induce feelings of comfort and calm.
Our tip:
You can also use Vanilla Oil during breastfeeding. A few drops of oil in the décolletage area create a sense of calm and security for both you and your baby, deepening your bond.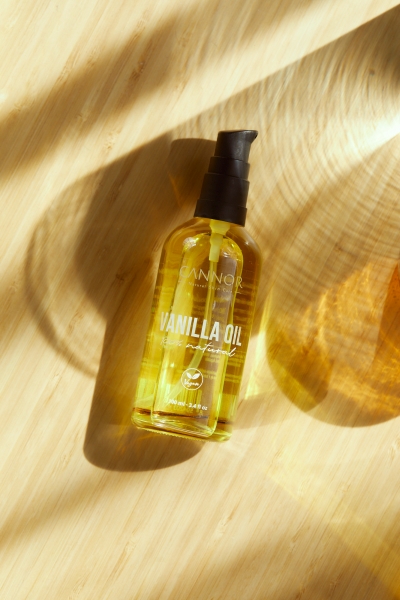 Composition of Vanilla Oil:
Main Ingredients:
Almond Oil – considered one of the most valuable plant oils. It provides a feeling of softness to the skin, soothes irritations, and protects it. It enhances the skin's elasticity and shields it from adverse environmental influences. It is particularly beneficial for dry skin prone to peeling, itching, and cracking.
Argan Oil – organic plant oil. In summer, it provides regeneration, soothing, and hydration for the skin after exposure to sunlight. In winter, it provides support for the skin exposed to low temperatures. The oil is cold-pressed in Morocco in a women's cooperative, and it proudly bears the "fair trade" label.
Jojoba Oil – organic plant oil. Its composition is similar to sebum, making it easily absorbed by the skin and penetrating deep into its layers, where it regenerates, heals, strengthens, and supports its natural defenses.
Composition:
Cold-pressed Almond Oil
Cold-pressed BIO Argan Oil
Cold-pressed BIO Jojoba Oil
Vanilla Macerate
Vitamin E