Pillow Spray – Calm & Relax

Creates a pleasantly scented and homey atmosphere.

Ideal for improving communication in the office or for adding a pleasant fragrance to yoga, relaxation, or wellness centers.

Has a soothing effect on the nervous system and reduces stress.

Promotes relaxation, rest, and quality sleep – besides the right mattress and bed, creating the right environment with lighting, sound, and scent is crucial for a good night's sleep. Aromatherapy plays a significant role in sleep as it can immediately influence our state of mind.
Nature at your service
Bergamot purifies the air, calms, brings relaxation, and a good mood.

Ylang ylang works against irritability and is traditionally valued for its mild aphrodisiac effects.

Lavender helps to fall asleep more easily thanks to its relaxing properties.
Take a moment to pause, relax, and enjoy a moment of comfort with Cannor´s Pillow Spray – Calm & Relax. This unique air freshener, Pillow Spray, is suitable for spraying not only in the bedroom but also in other open spaces where a calming atmosphere and agitated emotions need calming.
Pillow or Interior Spray? Both!
The unique combination of scents creates a perfect balance between relaxation and passion. Your bedroom will become a sanctuary of peace, allowing you to forget the worries of the previous day.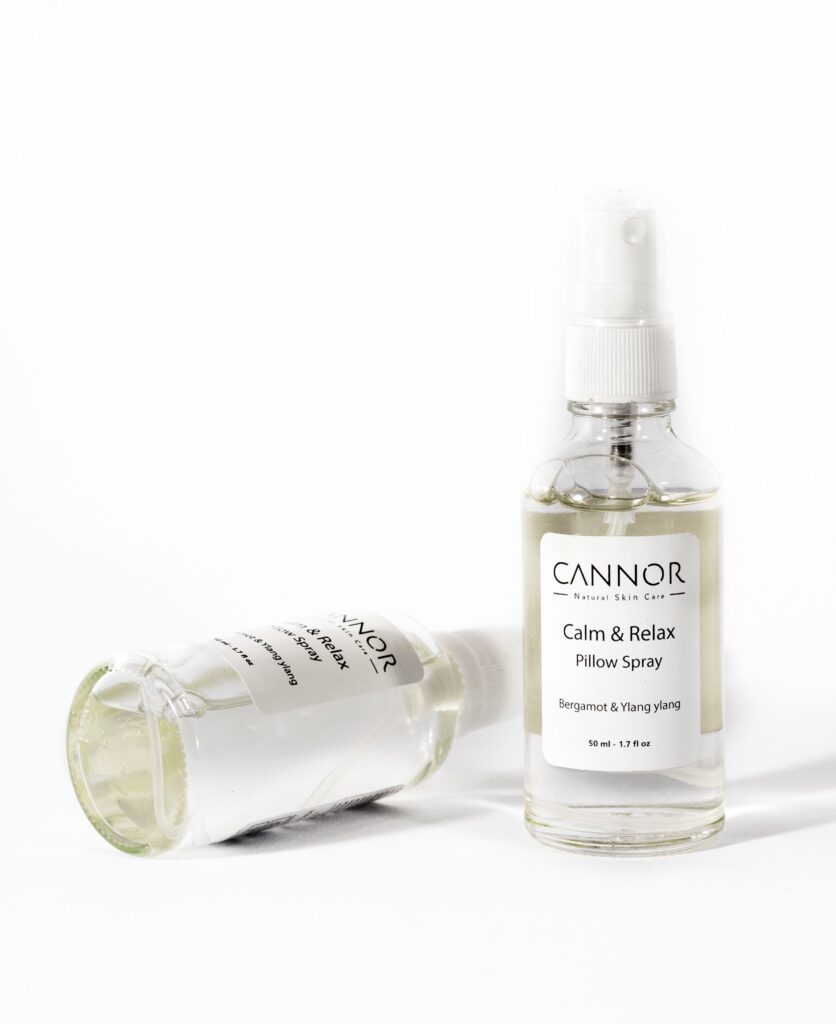 How to use Pillow Spray – Calm & Relax
Using the mechanical sprayer, apply 3–4 doses to your pillow or curtains. Avoid contact with delicate fabrics. Wait at least 5 minutes before lying down on the treated pillow.
You can also spray the refreshing spray on your yoga mat or meditation cushion – take a deep breath and enjoy the harmonizing effects that work on your body and soul.
INGREDIENTS:
Aqua, Glycerol, Polysorbate 20, Ethanol, Polysorbate 80, Potassium Sorbate, Cananga Odorata Flower Oil, Citrus Aurantium Bergamia Fruit Oil, Lavandula Angustifolia Flower Oil