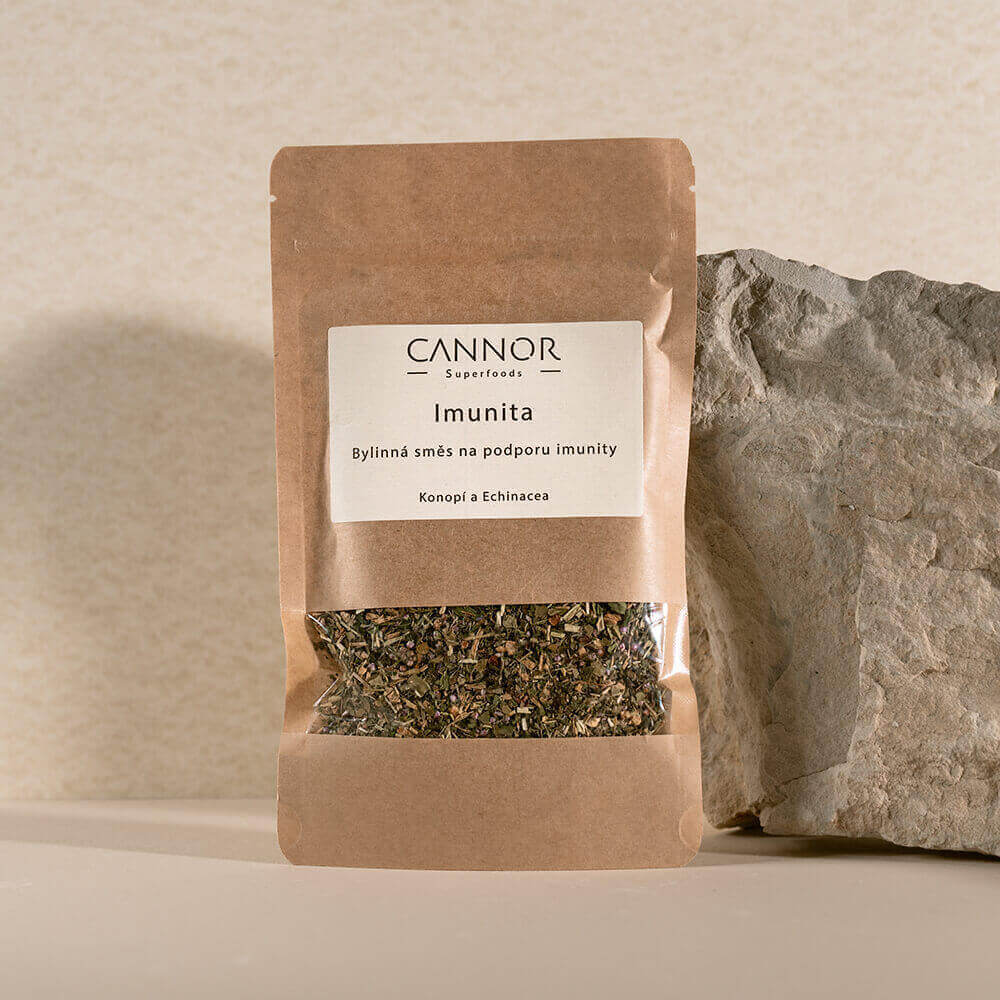 Herbal Tea Immunity – Hemp and Echinacea
Sea buckthorn fruit – It helps the body deal better with a range of issues, from improving digestion, blood formation, elasticity and permeability of blood vessels to skin problems. It contains a large amount of vitamin C. Importantly, vitamin C is very well preserved in fruit products because there is no ascorbinase present in the fruits, which is an enzyme that breaks down ascorbic acid (i.e., vitamin C). Sea buckthorn is a natural concentrate of vitamin A, B vitamins, vitamin D, E, F, K.
Echinacea (Purple Coneflower) root – This miraculous plant is considered a natural support for our immune system. It significantly stimulates the cells of the immune system.
How to prepare:
One teaspoon (1.5g) is poured into 250ml of boiling water, allowed to steep in a covered container for 5-8 minutes, and then strained.
Always prepare the infusion fresh. Drink it 1-2 times a day. Prepare your last cup no later than 5 PM, as it contains yerba maté, which contains caffeine.
Complete Ingredients
Nettle Leaf
Heather Blossom
Purple Coneflower Root (Echinacea)
Sea Buckthorn
Berry Rosehip
Fruit Common
Horsetail Herb
Yerba Maté
Hemp Leaves
Ground
Ginger
Lemon Peel
Ingredients Herbal Tea Immunity – Hemp and Echinacea:
Rosehip fruit – It has very complex effects and refreshes the entire organism. Rosehip contains sugars, organic acids, vitamins A, B1, B2, E, and, most importantly, a high amount of vitamin C.
Heather flower – Due to its various good properties, heather is used as an ingredient in many tea blends.
Nettle leaf – It contributes to the normal functioning of the cardiovascular system, prostate, and has an impact on the natural health of bones, hair, and nails. It also refreshes the body, supports vitality and energy. Beneficial effects have been recorded on the normal function of the skin, maintaining its natural appearance and health. It supports the natural defense mechanisms of the body – the immune system, and contains minerals, including iron.