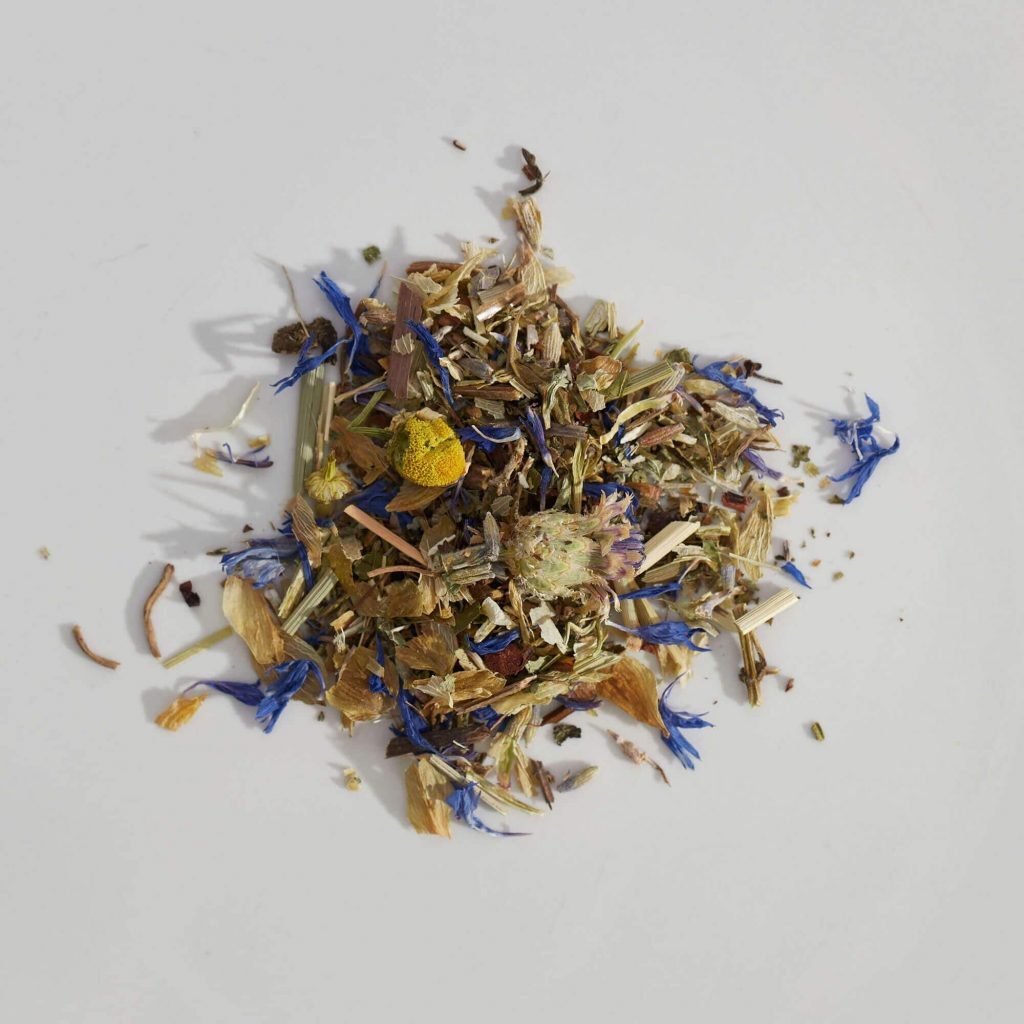 Herbal Tea – Dream
A unique blend of adaptogenic herbs with a combination of delicious taste and beneficial effects. Promotes relaxation and sleep. Supports mental health.
How to prepare – Natural Herbal Tea Sleep
Pour one teaspoon (1.5g) into 200 ml of hot water, let it steep for 7-10 minutes, then strain. Prepare the infusion fresh and drink 1-2 times a day.
Belongs to the cannabis family, so it calms and adds pleasure to life. It induces relaxation and sleep.
Supports the immune system, lipid metabolism, cognitive and mental health, positive mood, relaxation, and sleep.
The herb has a relaxing effect and influences sleep quality. It is capable of relieving stress. Its irreplaceable place is in the treatment of nervous tension and insomnia. A clinical study confirmed the excellent effect of regular consumption of passionflower tea on the subjective improvement of sleep. Passionflower extract also contributes to faster falling asleep and improves physical resistance to internal stress.
It has calming effects and is found in most tea blends for sleep problems and depression. In folk medicine, valerian is regularly administered without unwanted side effects for anxiety, depression, restlessness, stress, epilepsy, pain during menstruation, headaches, chronic fatigue syndrome, abdominal pain, and in children with ADHD. The valeric, isovaleric acid, and probably sesquiterpenes from the root of valerian can bind and specifically act on GABA receptors, from which sedative, antispasmodic, and analgesic effects can be derived.
In folk medicine, it is also recommended with a positive effect on the central nervous system's activity. It proves itself in menstrual and premenstrual syndrome (also alleviates menstrual cramps), during menopause, or to regulate the menstrual cycle. Healers recommend honeybush to alleviate symptoms of skin diseases and eczema. Recently, reports of testing the content of honeybush substances and its possible use in skin problems related either to excessive sun exposure, inflammatory diseases, or skin aging are emerging. It seems that a relieving effect occurs in acute problems, and in chronic problems, skin resistance, especially to UV radiation and wrinkle formation, increases.
Ingredients: Red Honeybush, Lemon Balm – herb, Hops – strobiles, Poppy – flower, Lemongrass, Valerian – root, Passionflower – herb, Lavender – flower, Chamomile – flower.