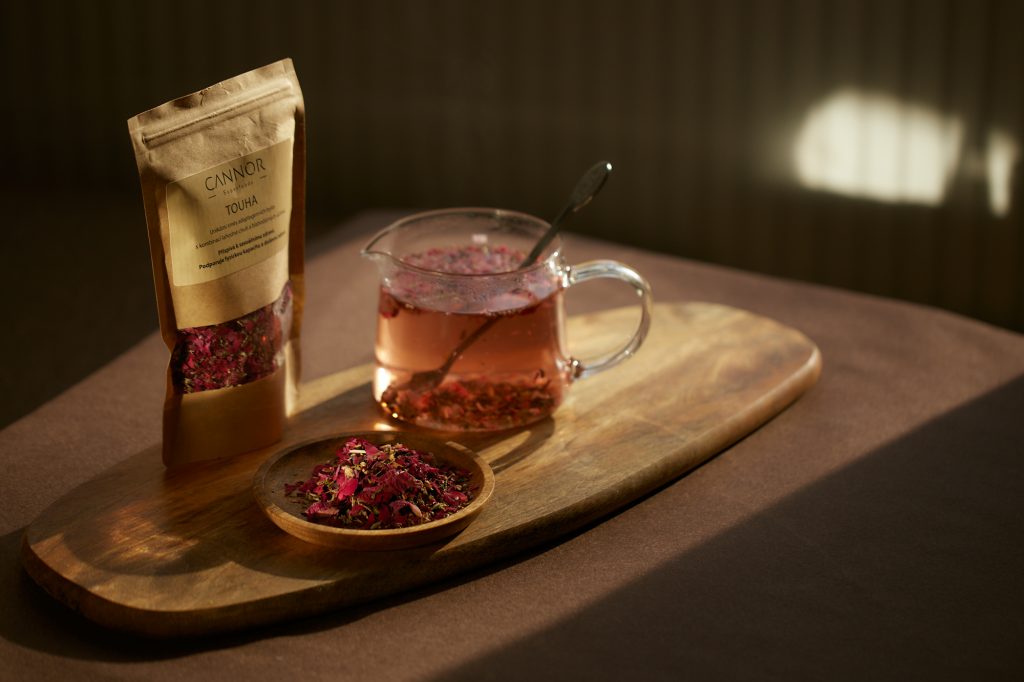 Herbal Tea – Desire
Time for Yourself! A unique blend of adaptogenic herbs with a combination of delicious taste and beneficial effects.
Promotes sexual health. Supports physical capacity and mental health.
How to prepare:
Pour one teaspoon (1.5g) into 200 ml of hot water, let it steep for 7-10 minutes, then strain. Prepare the infusion fresh and drink 1-2 times a day.
Ingredients Herbal Tea – Desire:
Muira Puama
Acts as an antioxidant and is an excellent tonic for the whole body. It contributes to supporting physical abilities, alleviating menopausal symptoms, and has an effect on hormonal balance.
Catuaba Bark
It is primarily known as an aphrodisiac. When consumed, its effect is reflected in erotic dreams, increasing libido, and continuously improving performance during sexual intercourse. One of the old Brazilian proverbs says, "if a man fathers a son after sixty, it is a son of catuaba." It is known as an aphrodisiac that increases blood flow to the pelvic area, stimulates sexual desire, and appetite.
Eleuthero
Has a positive impact on mental state and mental performance. It supports the body's resilience. It is used as a remedy during intense efforts, mental and physical stress. Eleuthero is used for relaxation and to promote a good mood. It normalizes blood sugar levels and blood pressure.
Damiana
Supports sexual health and helps maintain good sexual relationships. Damiana also harmonizes mental and cognitive activities.
Tribulus Terrestris
It is a popular herb, especially among men. Tribulus Terrestris supports the reproductive system and has an effect on hormonal activity. It contributes to the maintenance of normal cardiovascular system functions, affects blood clotting, and supports its cleansing. Tribulus Terrestris supports the normal functions of the urinary and reproductive system – it is suitable for men, with the effects being particularly noticeable in men over 40 years of age.
Cacao Beans
Known as an aphrodisiac. Theobromine, which has the greatest therapeutic use, is similar to caffeine but has a less pronounced effect on the central nervous system.
Cinnamon
According to the American National Library of Medicine, cinnamon can help with loss of appetite and erectile dysfunction. There are preparations containing Ceylon cinnamon for the treatment of premature ejaculation and erectile dysfunction in men, relief of allergic rhinitis, vaginal candidiasis in women, diabetes, and digestive problems.