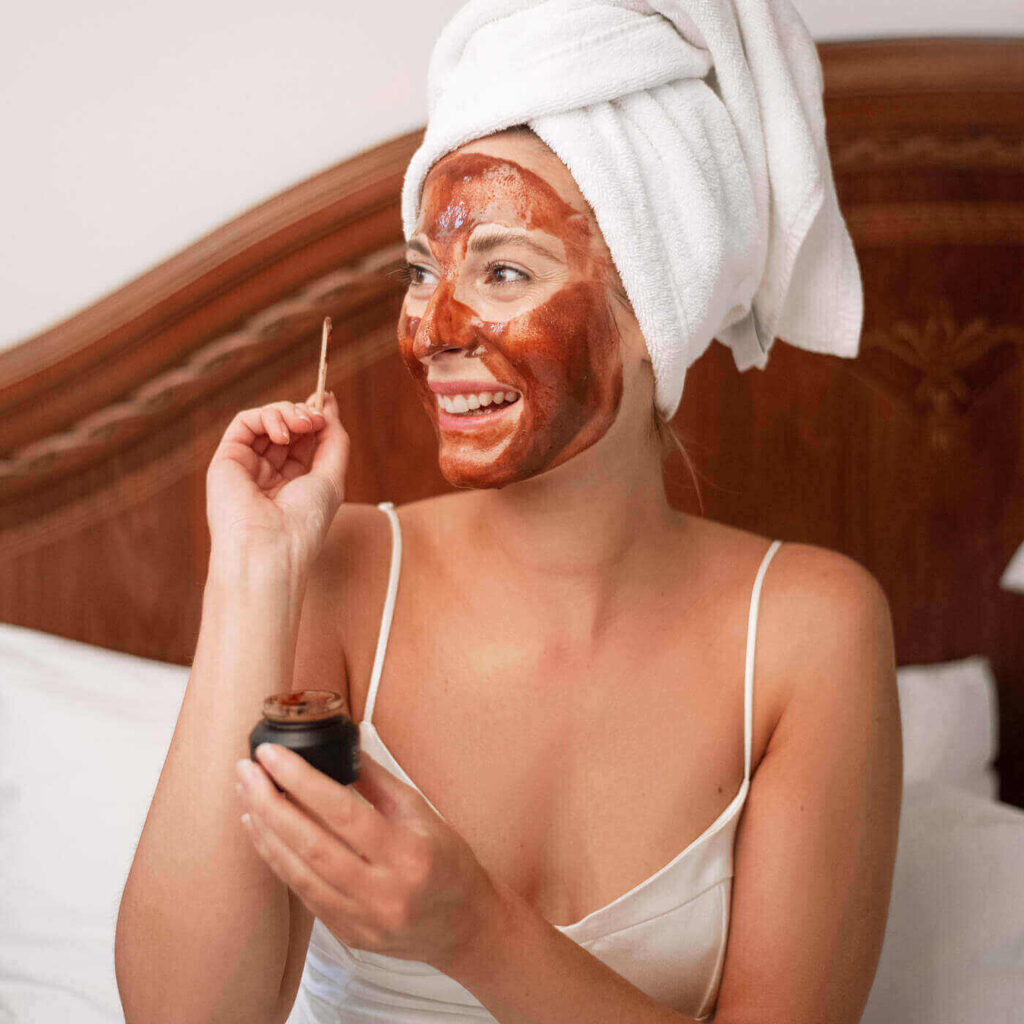 Firming Facial Mask – Dragon's Blood & Hibiscus
Firming facial mask with hibiscus and dragon's blood naturally stimulates the skin's regenerative processes, keeping the skin healthy, youthful, and radiant. It is specially blended for women of all ages who want to treat themselves to exceptional care after a demanding day. Mentally, it promotes vitality, reduces stress and nervousness, awakens feminine energy, and lifts the spirit.
Hibiscus Powder – used to soften and soothe the skin, it contains a high amount of vitamin C and flavonoids. It helps increase skin hydration and elasticity, making hibiscus known as the "botox plant": it smoothes fine lines, protects against the decline of hyaluronic acid in the skin, responsible for adequate skin hydration, and slows premature aging.
Damask Rose Powder – suitable for all skin types, especially sensitive and irritated skin. It is used for skin regeneration and its toning properties.
Dragon's Blood (Sangre de Drago) – natural resin from the Croton lechleri tree. The tree secretes this sap for its healing defense. It has strong antiviral, antibacterial, antifungal, anti-stress, and toning effects. It aids in regeneration.
Milk Thistle Oil from our own fields – has anti-inflammatory and purifying effects, suitable for problematic skin.
Firming Facial Mask – Dragon's Blood & Hibiscus Ingredients
Apricot Oil LZS, Red Clay, Mango Butter LZS, Coconut Oil, Organic Argan Oil, Organic Tea Tree Oil, Organic Rosehip Oil, Poppy Seed Oil LZS, Sesame Oil LZS, Organic Beeswax, Hazelnut Oil LZS, Moroccan Clay, Lithothamnium, Organic Damask Rose Powder, Organic Hibiscus Powder, Dragon's Blood Powder, Hemp Extract, Natural Vitamin E, Rosewood Extract, Extract.
How to use it:
Apply a small amount of the face mask to clean skin, avoiding the eye area. Leave it on for 20 minutes, then rinse with lukewarm water and follow up with a toner.
Use 1-2 times a week or as needed.