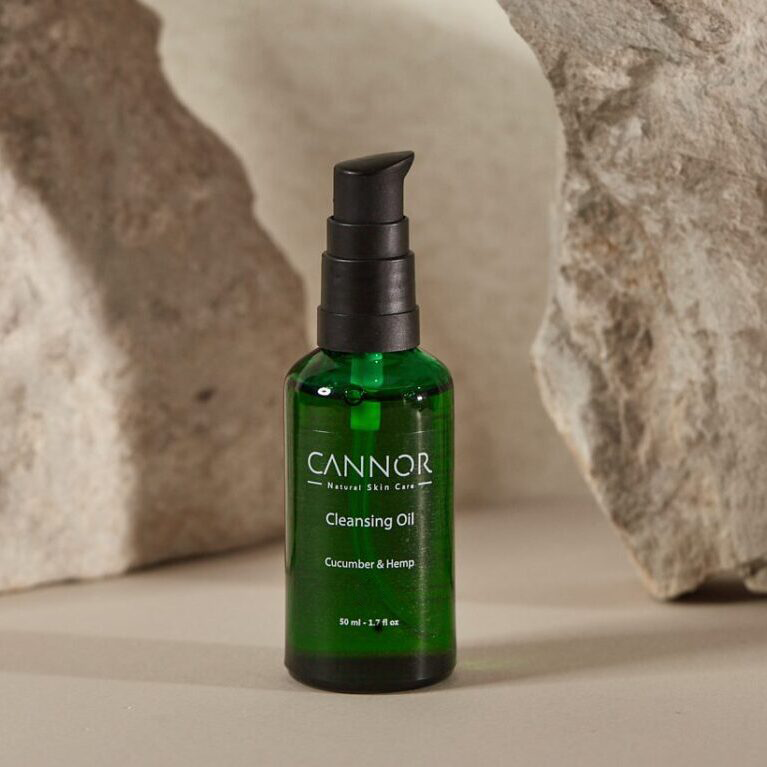 Cleansing Oil
The Hydrophilic Cleansing Oil contains cucumber oil, which visibly revitalises and firms the sensitive eye area, helping to minimise puffiness. Its gentle formula effectively removes even waterproof makeup and deeply cleanses the skin. After use, the skin feels smooth and thoroughly hydrated.
Our secret: The Hydrophilic Cleansing Oil is also suitable for oily, problematic, or acne-prone skin. For reducing inflammatory areas, we recommend using it in combination with the Regenerating Elixir.
One of the key advantages of cucumber oil is its ability to deeply moisturize the skin without clogging pores, making it suitable for all skin types, including sensitive and acne-prone skin. It helps to maintain the skin's natural moisture barrier, keeping it hydrated and supple, which can contribute to a more youthful and radiant complexion.
Cucumber oil also possesses anti-inflammatory and soothing properties, which can help reduce redness and irritation, making it an ideal option for calming sensitive or sun-exposed skin. Additionally, its natural antioxidants, such as vitamin E, aid in combating free radicals and environmental stressors, thus supporting the skin's defense against premature aging.
How to use:
Dispense 1-2 pumps of oil into your hands and apply to dry skin. Gently massage with fingertips, including the eye area, until all makeup is dissolved. Then, remove with a damp cloth and use a toner.
INGREDIENTS:
Jojoba oil – with a composition similar to skin sebum, it easily absorbs into the skin, promoting regeneration, healing, and strengthening while supporting its natural defenses.
Almond oil – one of the most valuable vegetable oils, nourishing and gentle enough for for all skin types. It provides a smooth feel, soothes irritation, protects, and helps particularly with dry, flaky, and itchy skin.
Tea tree oil – known for its antibacterial, antiseptic, and antimicrobial effects. It helps calm the skin after excessive sun exposure and deeply hydrates it.
Hemp oil – ideal for hydrating and nourishing very dry, easily irritated skin. Regular use prevents skin dryness, flaking, and irritation. It also exhibits anti-inflammatory properties.
Cucumber oil – all natural and known for its various benefits for the skin. It is derived from cucumber seeds through a cold-press extraction method. This light and non-greasy oil are rich in essential fatty acids, vitamins, and minerals, making it an excellent choice for nourishing and hydrating the skin.
Hemp Extract – abundantly found in the green parts of hemp. It belongs to substances known as 'medicines of the future' due to the analgesic, anti-inflammatory, and antioxidant effects of this ingredient and its positive influence on the skin, which generations before us have valued. We primarily utilize its properties because it can slow down cellular aging and has exceptional qualities for skin quality.
Cleansing Oil, 50ml
INGREDIENTS: Simmondsia Chinensis Seed Oil, Prunus Amygdalus Dulcis Oil, Cammelia Oleifera Seed Oil, Hemp Seed Oil, Caprylic/Capric Triglyceride, Cucumis Sativus Seed Oil, Polyglyceryl-4 Oleate, Ricinus Communis Seed Oil, Hemp Extract, Tocopherol, Lavandula Angustifolia Oil, Helianthus Annuus Seed Oil, Citrus Aurantium Bergamia Fruit Oil, Pogostemon Cablin Leaf Oil, Rosa Damascena Flower Oil, Linalool*, Limonene*, Citronellol*, Geraniol*, Benzyl Alcohol*, Eugenol*
*naturally occurring in essential oils