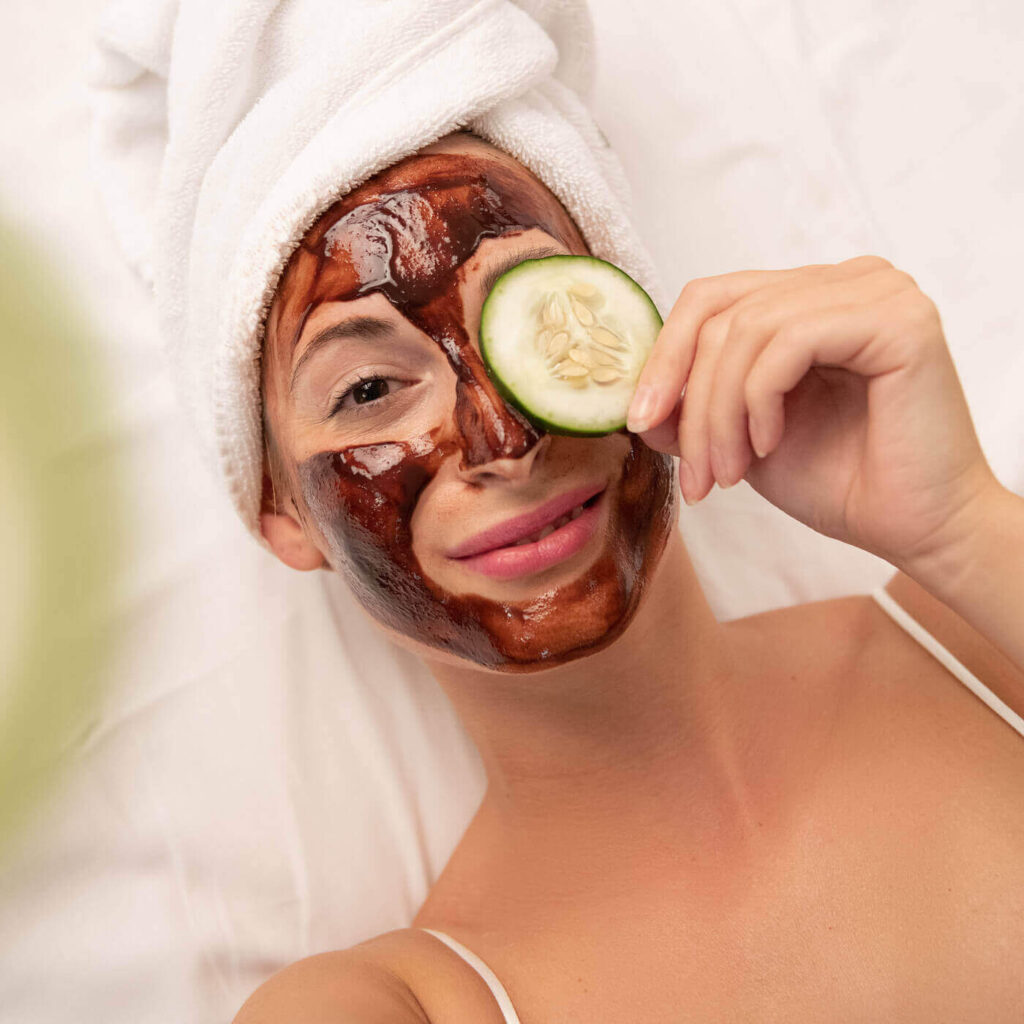 Chocolate Facial Mask
A pampering Chocolate Facial Mask will create a luxurious wellness salon at your home, leaving you with soft, perfectly treated, and radiant skin.
The very gentle exfoliating effect, handled here by cocoa powder and turmeric, cleanses the skin of dead cells and minor imperfections. A blend of plant oils and cocoa paste restores damaged skin and improves skin elasticity.
Macadamia oil – one of the most nutritious oils in the world, rich in omega fatty acids. It contains vitamins A, B3, E, and other trace elements such as calcium, iron, phosphorus, and zinc.
Plum oil – full of antioxidants, leaves the skin soft, with a delightful marzipan aroma.
Cherry oil – reduces the formation of wrinkles, improves skin elasticity, and doesn't clog pores. One of the most potent softening oils.
Cocoa CO2 – intensive chocolate scent from cocoa CO2 sends a signal to the brain that we have eaten something sweet, contributing to a reduced craving for sweets. It reduces stress and anxiety and acts as a powerful aphrodisiac.
Chocolate Facial Mask Ingredients:
Macadamia Oil LZS, Apricot Oil LZS, Organic Cocoa Paste, Organic Cocoa Powder, Almond Oil LZS, Wheat Germ Oil, Grape Seed Oil, Coconut Oil, Moroccan Clay, Hydrogenated Oil, Plum Oil LZS, Organic Cherry Oil, Turmeric Powder, Hemp Extract, Natural Vitamin E, Cocoa Extract, Vanilla Extract, Almond Extract, Cinnamon Extract.
How to use it:
Apply a small amount of the chocolate face mask to clean skin, avoiding the eye area. Leave it on for 20 minutes, then rinse with lukewarm water and follow up with a toner.
Use 1-2 times a week or as needed.